Service Dog
Bottomless good times and doggone fun
Regular price
$429.95
Sale price
$300.97
Unit price
per
Sale
Sold out
Forget the leash, the Service Dog is loose and hungry for pow! This playful yet responsive powder hound is all about floating, slashing and darting through trees. Directional Diamond 3D keeps tails wagging and cruising through bottomless pow or just lapping with the pack.
Terrain Map
Camber

FREE-THE-RIDE
Designed for all-mountain prowess and float in the deep. Rockered in the nose, flat under the front foot, with a positive cambered tail.
Shape and Hotrods
Taper is featured in directional boards built with wider noses than tails, helping with agile turns and added float in deep snow.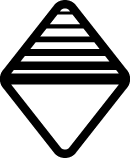 Directional
Diamond 3D
Designed to increase float in deep snow, improve handling in variable terrain, smooth turn initiation, reduce edge catch and complement all-mountain riding in all-senses.

Bamboo HotRods
One single rod of bamboo milled into the board's core in the nose for pressability and playfulness.
Board Contents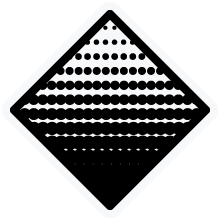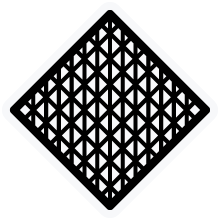 Triax Glass
Fiberglass running in three different axes, built for torsionally rigidity and added snap.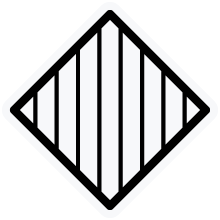 Stomp Core
Our most stable and predictable core, built with 100% poplar construction.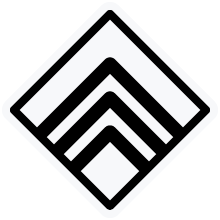 Powerslide Base
A new base material that features improved wax absorption, increased durability and the most bang for your buck.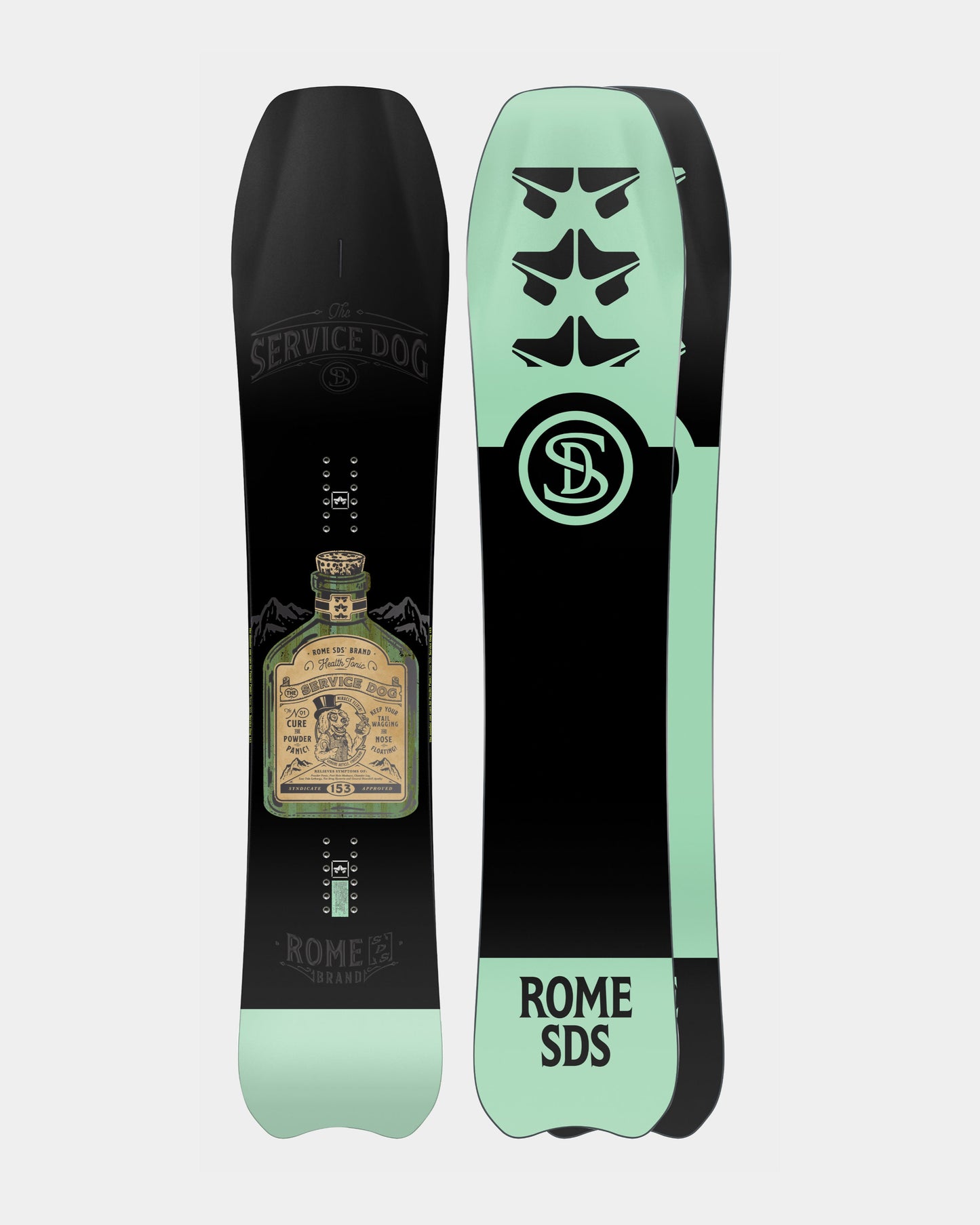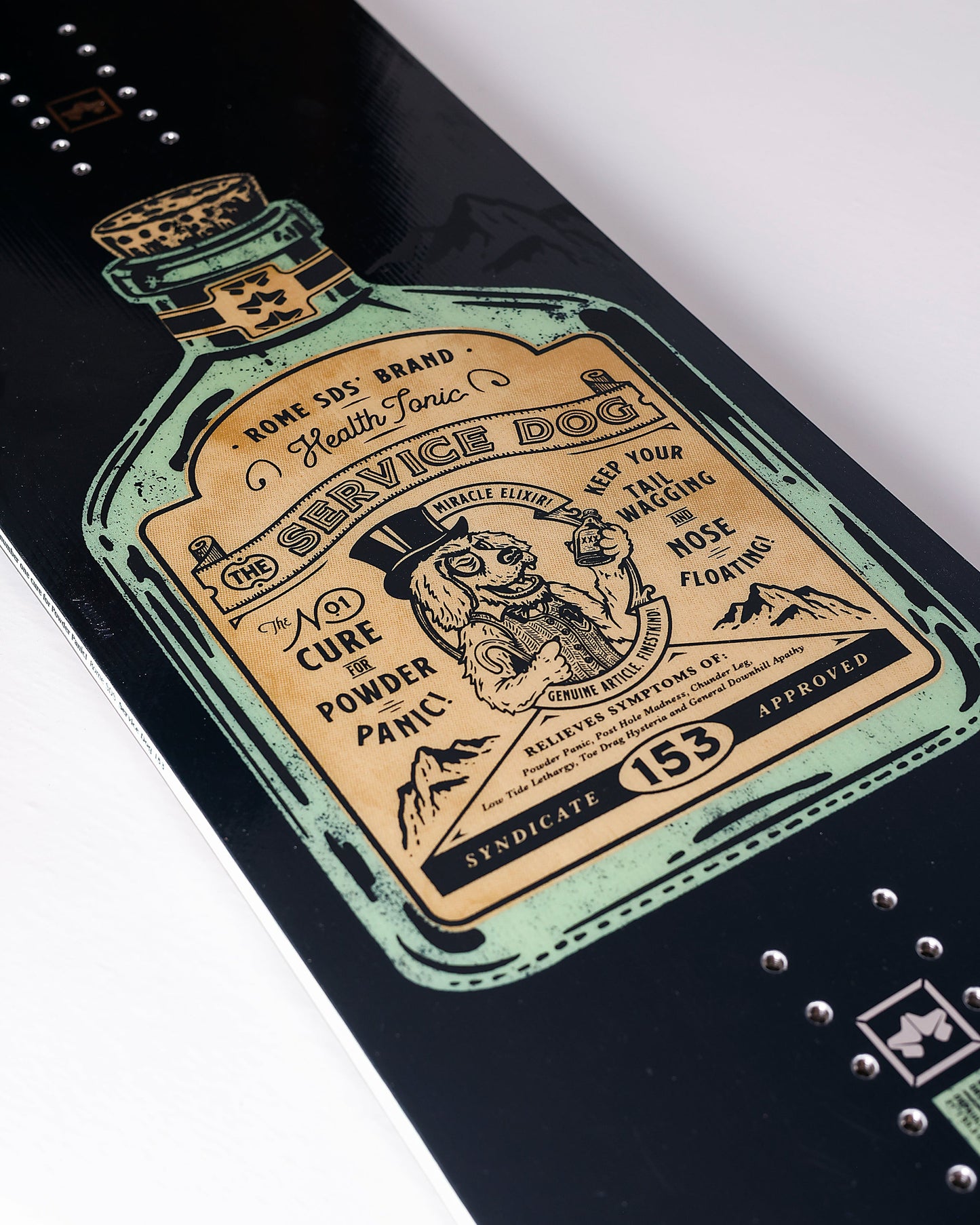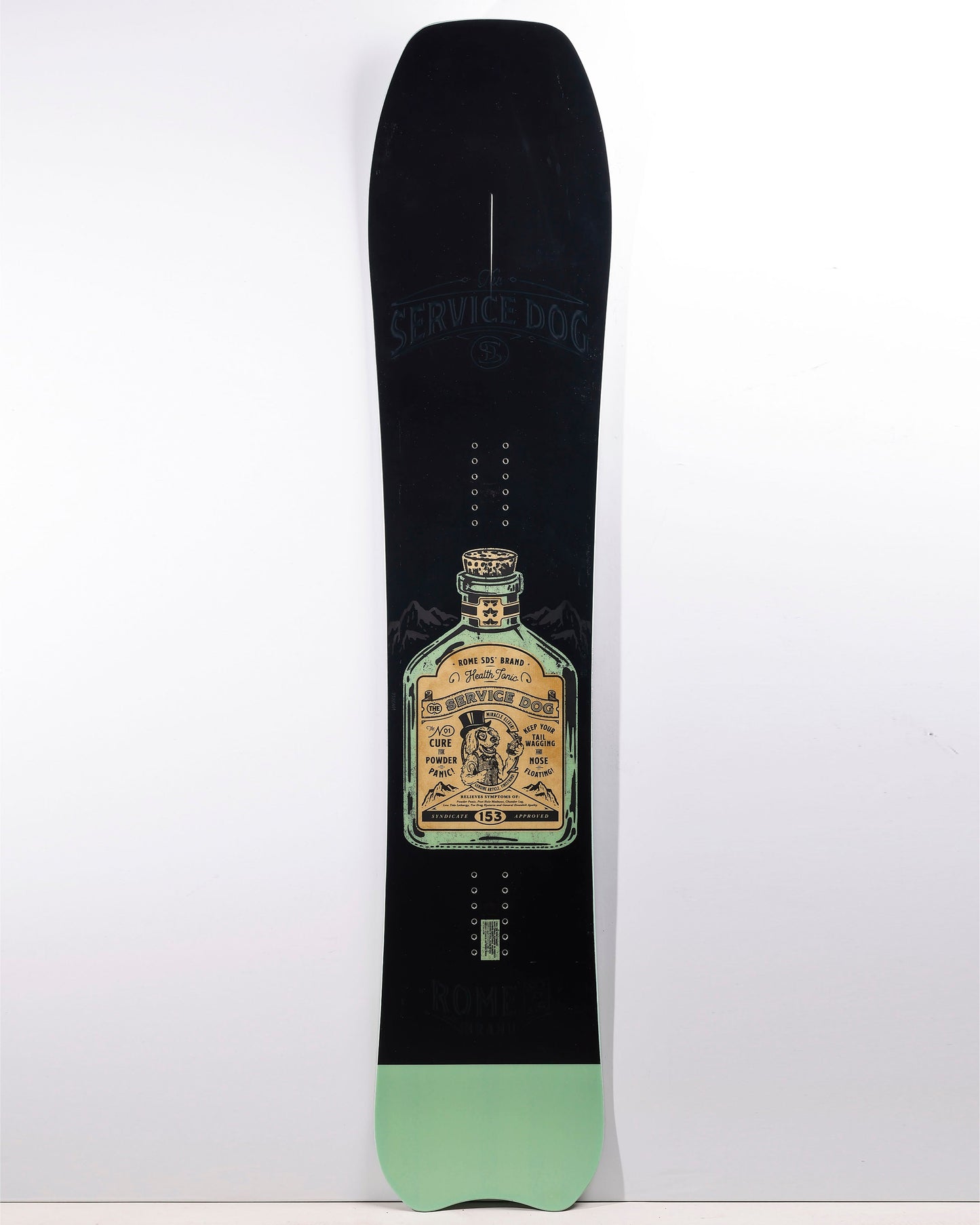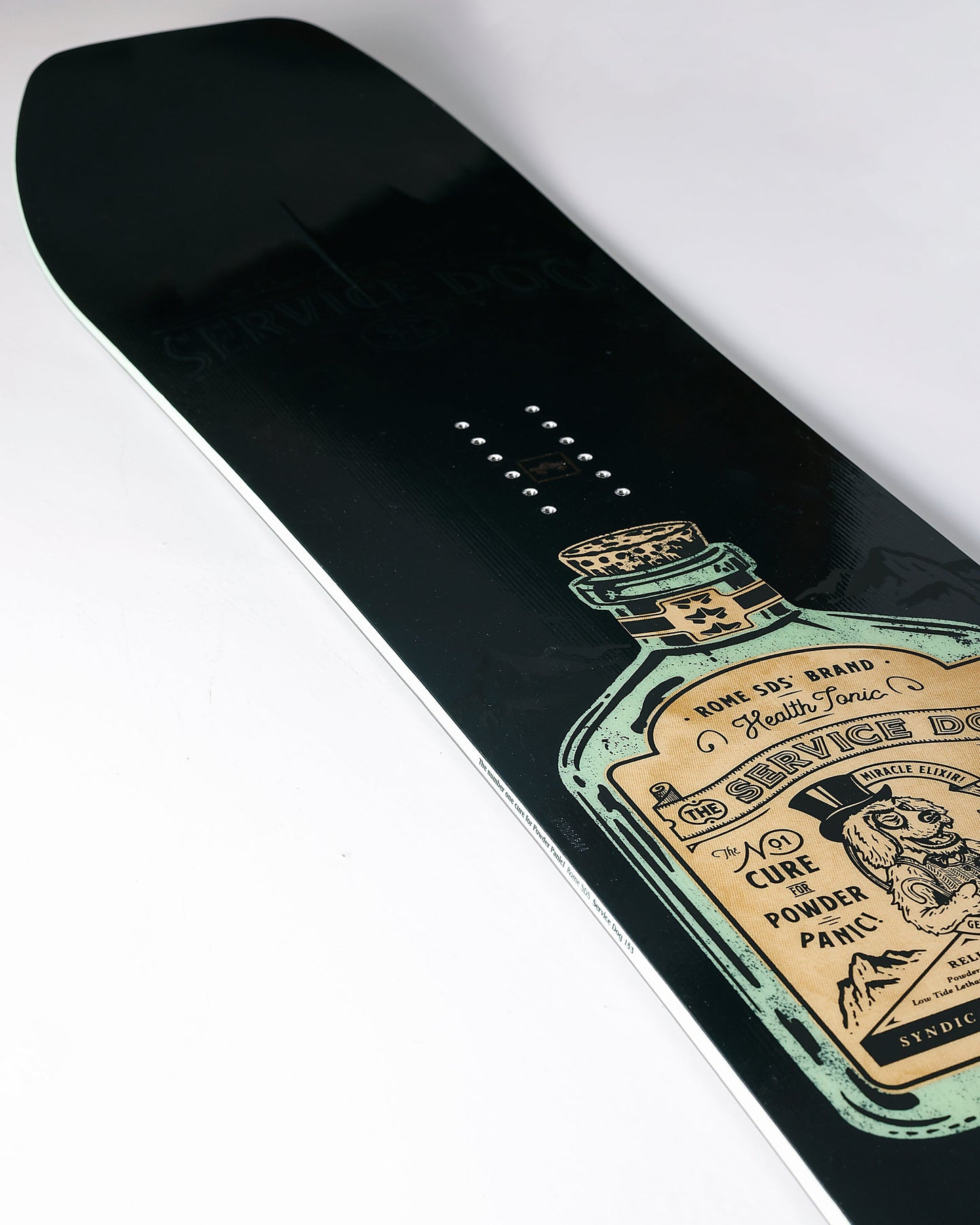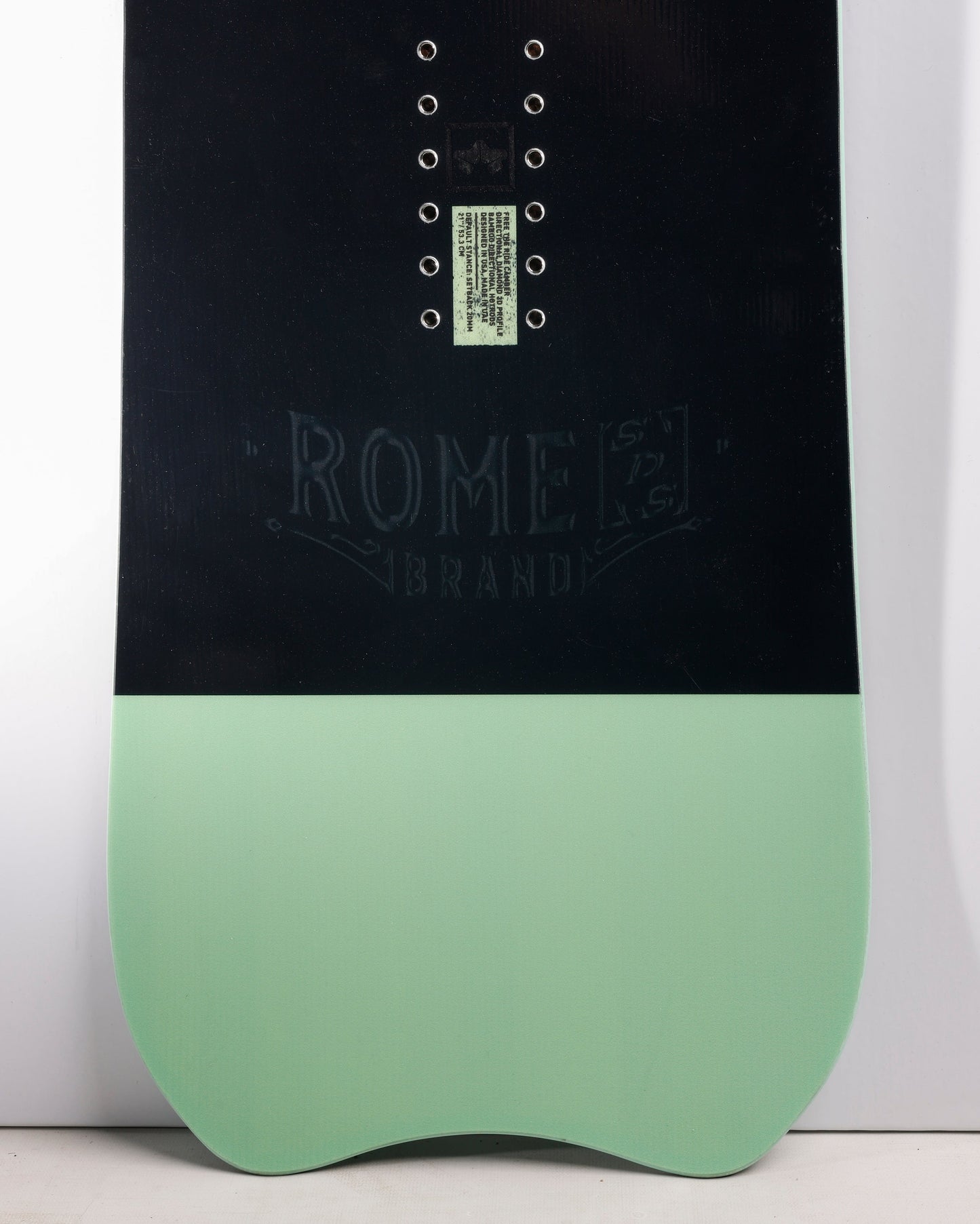 Service Dog Size Chart
| | | | |
| --- | --- | --- | --- |
| Length (cm) | 148 | 153 | 157 |
| Contact Length (cm) | 101.6 | 106.2 | 109.9 |
| Effective Edge (cm) | 110.6 | 115.2 | 118.9 |
| Waist Width (cm) | 26.2 | 26.5 | 26.7 |
| Sidecut Radius (m) | 7.32/6.52 | 7.62/6.82 | 7.86/7.06 |
| Setback (cm) | 2.0 | 2.0 | 2.0 |
| Inserts | 2x4x12 | 2x4x12 | 2x4x12 |
| Min/Max Stance (in) | 18.4-23.1 | 19.4-24.1 | 19.4-24.1 |
| Min/Max Stance (cm) | 46.8-58.8 | 49.34-61.34 | 49.34-61.34 |
| Weight Recommendation (Lbs) | 112-156 | 130-174 | 147-191 |
| Weight Recommendation (Kg) | 51.0-71.0 | 59.0-79.0 | 67.0-87.0 |
| Boot Size (us/uk) | 9-13 / 8-12 | 9-13 / 8-12 | 10-14 / 9-13 |
| Boot Size (eu/cm) | 43-48 / 27.5-30.5 | 43-48 / 27.5-30.5 | 44-48 / 28.0-31.0 |
Awesome board
I'm so stoked to take this bad boy out, the season can't start soon enough
Service Dog
The feeling when I first rode this board was how right it felt for me. I am pretty new to snowboarding but I have done my homework so everything worked out well. When I finally had the chance to ride the service dog in a proper mountain it really came alive and I understood how fun it was when turning and carving tight to medium turns. So easy to change thy dynamics when in a turn. This board is a blast to ride!
It's not just a snowboard. It's family
Once you add the service dog to your life there's no going back. You find yourself bringing it everywhere (bridal showers, pinewood derby's etc) And you're gonna feel bad about leaving it in the car on blue bird days. The service dog is there for the best and the worst. Wether it be sniffing out fresh pow lines. Or digging its claws into a banked slalom course. Or wagging its tail through the moguls. You're going to worry about if it got enough air, Or if you fed it enough groomers for the day. The service dog doesn't care. It's there for you no matter what rain or shine. Slush or pow. Meet Man's best friend adopt a service dog.
Versatile Pow Board
Bought this a dedicated powder/party board but I've found myself using it for a lot more. The maneuverability and playfulness is unlike anything I've ridden, but it still holds up well in chop
Total Fun
Really funny board. I bought this for powder days but now I'm keeping it for everything.